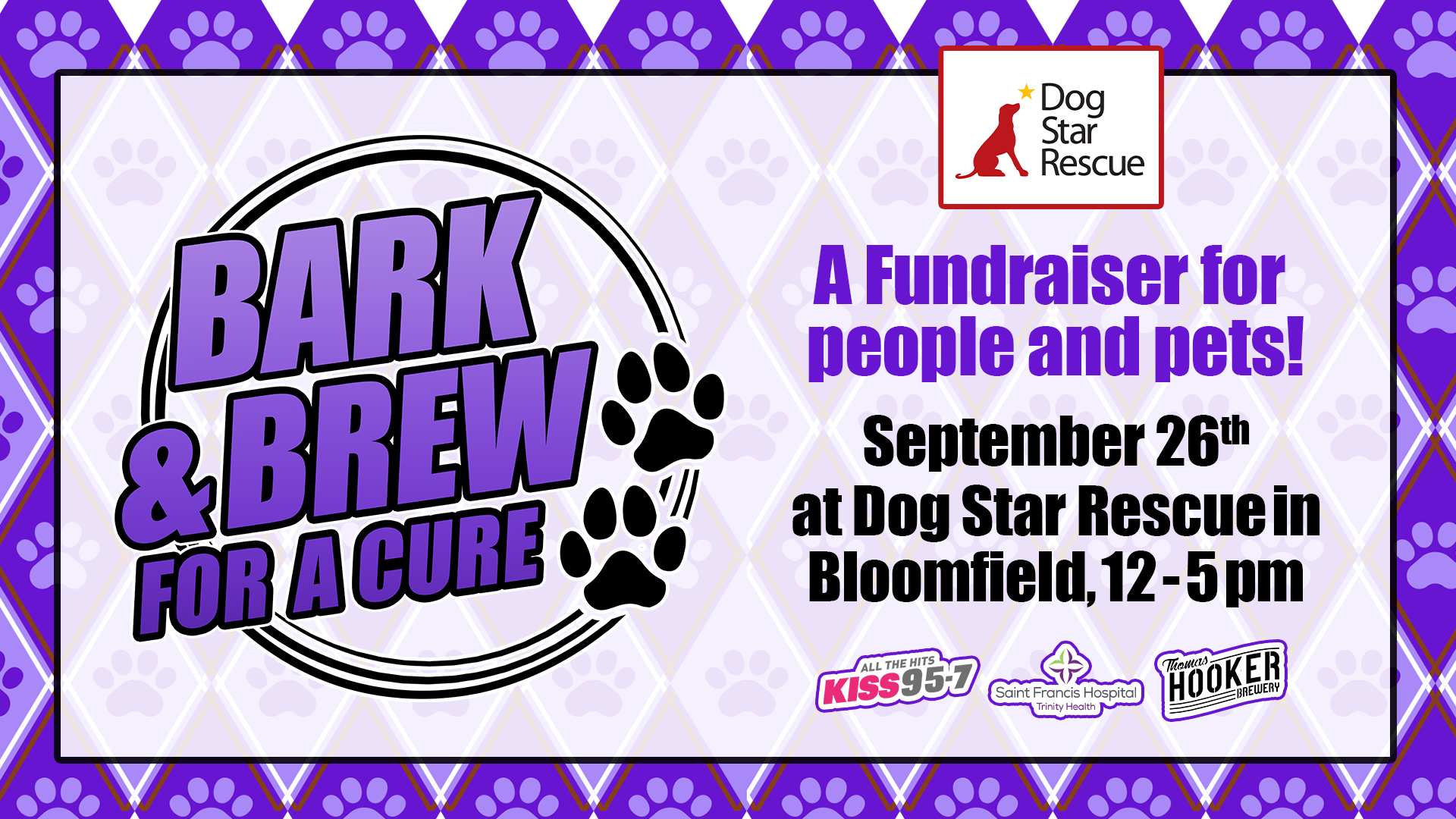 September is National Thyroid Cancer Awareness Month!
You're invited! In June, Courtney from KISS in the Morning had a thyroid cancer surgery. She's now giving back and sharing the importance of awareness for this disease with a fun event raising money for both people and pets.
Join us to help us raise money for Saint Francis Hospital's Hope & Healing Campaign and Dog Star Rescue!
For the entire month we are raising money for the Hope & Healing Campaign benefitting cancer care at Saint Francis Hospital whose goal is to bring healing and comfort to patients and their families.
The Bark & Brew for a Cure with Courtney is happening on September 26th at Dog Star Rescue in Bloomfield from 1pm to 5pm! 12 Toby Road in Bloomfield!
Your ticket at the door includes, awesome beer, live music from Sister Funk, food and more! Dog Star adoptable dogs will be on site.
★★★ BUY YOUR TICKETS CLICK HERE★★★
Psychic Medium Angelina Diana will be there and for a fee do People and Pet readings, so bring your fur baby! All proceeds from Angelina go directly to Saint Francis Cancer Center
Grab a 4 pack of the limited edition specialty beer "Courtney's Brew!" proceeds also go to Saint Francis Call Thomas Hooker Brewery to place your order or purchase at the Brewery.
Our goal is $9,570 -- can you help us?
★★★ DONATE HERE:www.hopeandhealingct.org★★★
★★★ BUY YOUR TICKETS CLICK HERE★★★
About the Hope & Healing Cancer Care Campaign
The Hope & Healing Cancer Care Campaign for Saint Francis Hospital was established
to raise $25 million to expand, renovate and add cancer care programs, services and
facilities in Hartford, Enfield, Glastonbury and throughout the Greater Hartford
community. To date, $20 million has been raised. The additional funds will allow Saint
Francis Hospital to increase the current footprint of the outpatient Cancer Center to
provide improved access to vital oncology services. Construction is set to begin by the
end of this calendar year.
★★★ DONATE HERE:www.hopeandhealingct.org★★★
About Dog Star Rescue
Dog Star Rescue, a non-profit, volunteer-run organization, is a dog rescue organization based out of the Hartford CT area. We work closely with shelters in the South as well as New England states to save the lives of loving and loyal dogs who have lost their way and find themselves on death row. Our team of wonderful volunteers get these adoptable dogs the medical and emotional care they need so they can transition into a loving forever home. To date we've placed over 3,000 dogs with new families.
★★★ BUY YOUR TICKETS CLICK HERE★★★